Furniture Hire
Plymouth, Devon & Cornwall
We offer a wide range of furniture for hire to events, parties and weddings across the South West.  Please see below a range of the tables, chairs and barrels we hire as a starting point but if you have any requirements you can't find then please get in touch.
We carry a large range of Table hire options and high levels of stock of each style of table. The type of table you choose to hire will depend on your guests numbers, preference for layout and of course your theme. We offer both round and trestle tables and both we stock in both rustic and basic styles.
If you need advice then do ask.
We have a range of chair and bench hire options. The style of chair you choose can have a massive impact on the look and feel of your event not to mention the comfort of your guests of course. At Wedding Hires we offer a range of chairs to choose from to match your budget and style.
Choose from our rustic style benches or classic chivari lime wash wedding chairs or we can offer you more basic wooden folding chairs or our budget white plastic.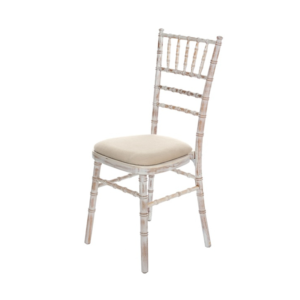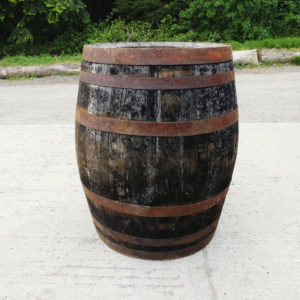 Outdoor Furniture Hire
Chairs and tables for use outdoors.  We also have cable drum tables and keg seats that are suitable for use outdoors.  Barrels make great perching tables for smoking areas and marquee weddings for example.  We can also supply Rattan furniture sets as less 'rustic' options for weddings and events.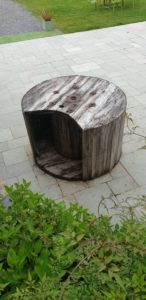 We have a selection of archways available ranging from our Stunning Oak Archway to our basic wooden frame. All can hang lighting, personalised messages or act as photo booths.
We also offer an 8ft wedding heart archway with built in lighting which makes a fantastic focal point for your wedding day celebration.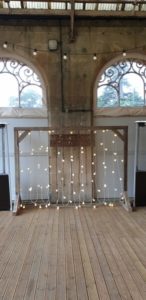 Blackboards, Menu Boards & Tree Rings
Blackboards and Menu Boards for hire for your wedding or event.  To change it up we can offer you a large tree ring for use as a menu board.  You can have this laser engraved with your table layout or to attach a plan to.
We also offer smaller tree rings for use as table centers and cake stands.
We also offer easels to support both blackboards and tree rings.